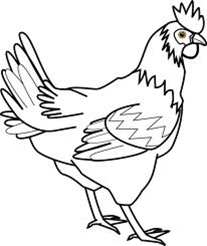 The Currituck County Center of NC Cooperative Extension along with area counties will be hosting an Albemarle Area Youth and Adult Poultry and Rabbit Show on November 9, 2013 at the Livestock Arena in Elizabeth City NC.   If you are interested in participating in this event please  contact the Currituck County Center  by March 15, 2013. Youth and adults are required to pay the registration fee of $10.00 and return the registration information by the March deadline.  Registration materials can be found below or on our website: //currituck.ces.ncsu.edu/  click on 4-H Youth Development on the left.
 Youth that register for the poultry show will receive two baby chicks. These chicks will be delivered sometime in April. Adults registering for the poultry show are required to purchase or find their own birds.
 Youth and adults that are registering for the rabbit show are required to find and purchase their own rabbits.
 If you have any questions or concerns please contact Stephanie Minton at 252-232-2262 or email me at stephanie_minton@ncsu.edu
Rabbit Show Rules and Registration
Poultry Show Rules and Registration