Currituck Home, Flower and Garden Show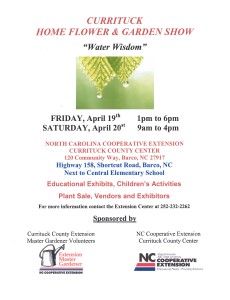 The Currituck County Master Gardeners are delighted to announce its annual Currituck Home, Flower and Garden Show which will be held on Friday, April 19th and Saturday, April 20th. Doors will open to the public on Friday at 1:00 p.m. and close at 6:00 p.m. Saturday's hours are 9:00 a.m. to 4:00 p.m. The show's theme this year is "Water Wisdom".
Stop by and learn how to use water wisely in your yard and gardens or explore our many and varied vendor products. There will be garden exhibits, children's activities and demonstrations designed to enhance your gardening skills. The Currituck Master Gardeners and several other vendors will have plants for sale. Hanging baskets, annuals, herbs, daylilies, and vegetables will be among the many plants that will be available for purchase. Our vendors will offer an extensive array of garden and household items, from garden furniture to garden art, birdfeeders, and much, much more.
The Secret Garden, a special attraction for families, will offer activities for adults and children. Youngsters, and the young at heart, can participate in hands-on projects or browse garden literature. Exciting door prizes will be awarded and raffles will be held. Master Gardener Volunteers will also be available to answer gardening questions.
The Currituck Home, Flower and Garden Show is a "don't miss" event and draws visitors from all around the region. The event is co-sponsored by the N.C. Cooperative Extension, Currituck County Center and will be held at the Currituck Extension Center, 120 Community Way, in Barco, NC. For more information on the show or if you would like to be a vendor, call N.C. Cooperative Extension, Currituck County Center at 252-232-2262 or e-mail deborah_kelso@ncsu.edu