Science.Biotechnology.Investigate Camp 2013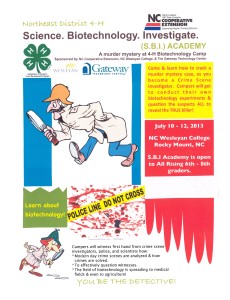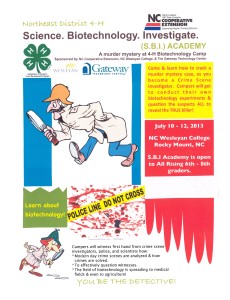 The Northeast District 4-H S.B.I. (Science.Biotechnology.Investigate) Academy will be held July 10-12, 2013 at NC Wesleyan College in Rocky Mount.  The event is co-sponsored by The North Carolina Cooperative Extension 4-H Program, NC Wesleyan College and The Gateway Technology Center.  Youth campers will witness first hand from crime scene investigators, police, and scientists how modern day crime scenes are analyzed & how crimes are solved, how to effectively question witnesses and how the field of biotechnology is spreading to medical fields-even to agriculture!Campers will learn how to crack a murder mystery case, as they become Crime Science Investigators.  Campers will also get to conduct their own biotechnology experiments and question the suspects, all to reveal the true killer!  The camp is open to all rising 6th through 8th graders.  Space is limited, so hurry to get your spot reserved.  Registration deposits are due in the Currituck Extension/4-H office no later than April 8, 2013.  For more information, please contact Ellen Owens, Extension Agent, 4-H Youth Development, 232-2262 or ellen_owens@ncsu.edu.
Was the information on this page helpful?
Care to tell us why? Send Explanation
This page can also be accessed from:
go.ncsu.edu/readext?204527