Currituck Rural Farm Festival 2013 Chili Cook-Off Winners
Currituck County residents turned out on Saturday, October 5th, to sample 5 tasty chili contest entries at the 2013 Currituck Rural Farm Festival at the Currituck County Rural Center in Powells Point, NC. A team of judges chose the top three chili entries.
Judges for the 2013 Chili Cook-Off were Trina Marietta, Currituck County Master Gardener, Molly Bailey, Moyock ECA Member and Ethal Cowell, Moyock ECA Member. The Chief Score Keeper was Pat Furr Powell's Point Senior Center Assistant Coordinator.
The winners of the competition were 3rd place: Deanna Hatfield with her "Bean and Corn Chili", 2nd place: Tommy Johnson with his "Tommy's Too Late Chili" and 1st place:  Joel Pearce with his Mr. Joel's OMG Chili."  All of the participants were given a participation award for their delicious entries. The first place recipient also received a $50.00 cash prize donated by Kevin's Store of Coinjock. Congratulations to each of these great cooks.
For more information about the annual contest and festival, contact N.C. Cooperative Extension at (252)232-2262.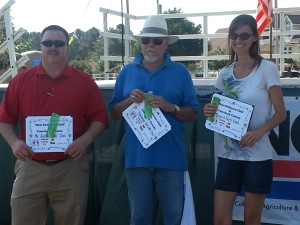 Pictured from left to right:  1st Place winner, Joel Pearce, 2nd Place winner, Tommy Johnson and 3rd Place winner Deanna Hatfield.