Currituck 4-H Awards Outstanding Accomplishments
Find this article at:
go.ncsu.edu/readext?273780
Currituck County 4-H members, adult volunteers, parents and community supporters were recognized on Wednesday evening, February 5 at the Annual Currituck County 4-H Achievement Program. The speaker for the evening was a 4-H member from Camden County, Jonathan Gay. Jonathan, a District 4-H officer, brought greetings and announcements on behalf of the Northeast District 4-H Council. Also attending were Currituck Commissioners Butch Petrey and Marion Gilbert who assisted with the recognition ceremony.
The Trailblazers 4-H Club of Shawboro, under the leadership of Wendy Roberts was named the 4-H Club of the Year for 2013. The Tree Frogs 4-H Club and the Sharp Shooters 4-H Club both met the requirements to become 4-H groups and received their official charters.
Adult volunteers were recognized for outstanding service to the 4-H program. Special volunteer awards included:
School Enrichment Volunteer of the Year-Jennifer Roche, 2nd Grade Teacher at Knotts Island Elementary
At-Large Volunteer of the Year-Don Williams of Mainstay Construction
Teen Volunteer of the Year-Mitch Kreisel
Youth who earned achievements for club work, project record keeping and service in their community were recognized for their efforts. Project record books are compiled by 4-H'ers to record accomplishments they have made in a particular subject matter. The Best Project Book winners for 2013 were:
9-10
Jacob Stone-Best 9-10 Science & Technology
Abbigail Owens-Best 9-10 Consumer & Family Science and Best 9-10 Communication Arts
11-12
Ryan Boyer- Best 11-12 Animal Science and Best 11-12 Health & Fitness
Shalie Williams-Best 11-12 Plant Science
Jonathan Stone-Best 11-12 Science & Technology, Best 11-12 Environmental Science and Best 11-12 Communication Arts
13-15
Victoria Robey-Best 13-15 Animal Science and Best 13-15 Science & Technology
Mitch Kreisel-Best 13-15 Consumer & Family Science
16-18
Ridge Roberts-Best 16-18 Animal Science, Best 16-18 Science & Technology and Best 16-18 Environmental & Natural Resources
Outstanding 4-H Members of the year included:  9-10 year old-Abbigail Owens; 11-12 year old- Dalton Hauser; 13-15 year old- Mitch Kreisel; and 16-18 year old- Ridge Roberts.
Three 4-H members received their 4-H jacket, which can be earned by 4-H'ers through a point system for accomplishments made over a period of several years. Mitch Kreisel, Victoria Robey and Dalton Hauser were presented with their jackets.
Currituck County 4-H would like to thank everyone who contributed to a successful program year.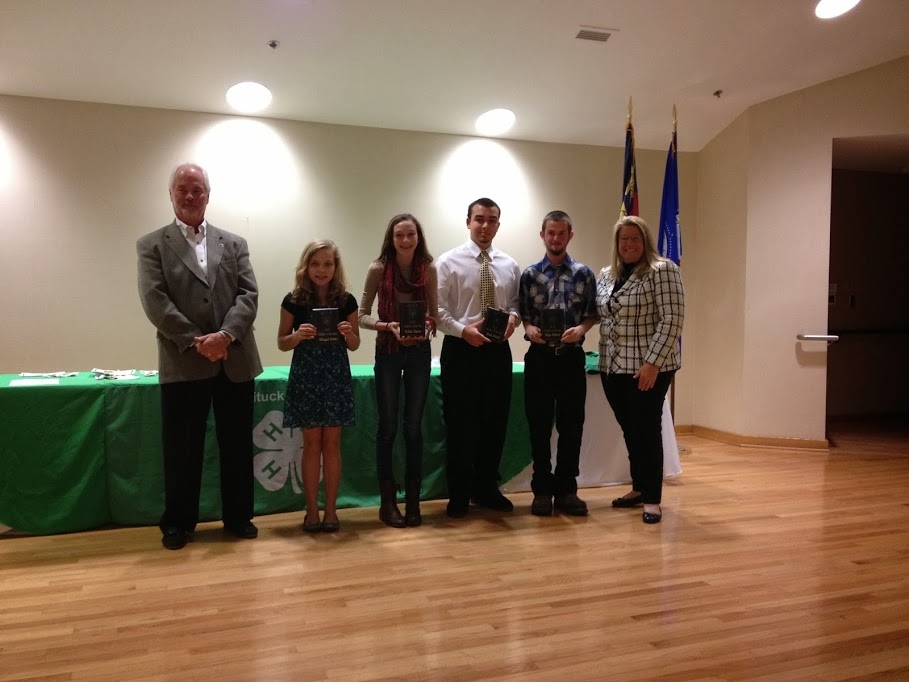 Outstanding 4-H Members of the Year 2013 ~ Abbigail Owens, Dalton Hauser, Mitch Kreisel, and Randy Roberts with Commissioners Butch Petrey and Marion Gilbert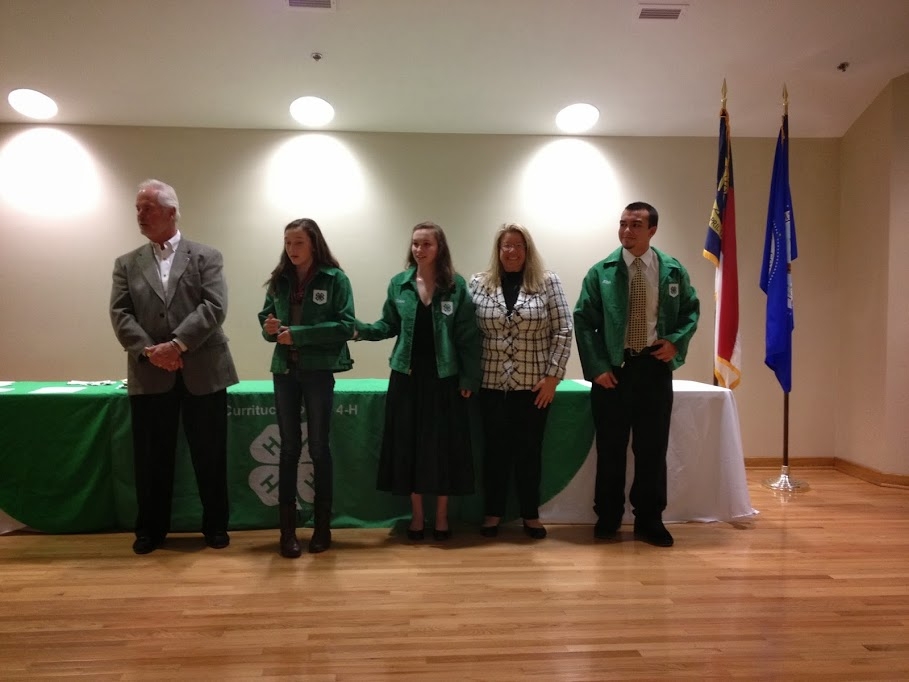 4-H Jacket Receipients ~ Dalton Hauser, Victoria Robey, and Mitch Kreisel with Commissioners Butch Petrey and Marion Gilbert