Currituck 4-H Awards Outstanding Accomplishments
Currituck County 4-H members, adult volunteers, parents and community supporters were recognized on Thursday evening, January 22 at the Annual Currituck County 4-H Achievement Program. Also attending was Currituck Commissioner Marion Gilbert who assisted with the recognition ceremony.
The Sandspurs 4-H Club of Shawboro, under the leadership of Trish Rippin was named the 4-H Club of the Year for 2014. The Sandspurs 4-H Club was also recognized for being named first place winner in the Club Scrapbook Contest. Kathleen Crawford of Powells Point was recognized as the 4-H Volunteer of the Year for her outstanding contributions.
Adult volunteers were recognized for outstanding service to the 4-H program. Special volunteer awards included:
• At-Large Volunteer of the Year-Butch Petrey
• Teen Volunteer of the Year-Mitch Kreisel
Youth who earned achievements for club work, project record keeping and service in their community were recognized for their efforts. 4-H'ers keep records, known as Project Records, which are a record of accomplishments they have made in a particular subject matter during a one-year period. The Best Project Book winners for 2014 were:
5-8 Years
Jamie Holcomb
Citizenship
Family
Healthy Life Style
Poultry
Gardening
Cayden Lowe
Sports
Cooking
Hunter Moeller
Community Service
Pet Care
Garden/Agriculture
9-10
Jordan Holcomb-Best 9-10 Science & Technology
Ashton Lowe-Best 9-10 Consumer & Family Science,
Ashton Lowe-Best 9-10 Healthy Lifestyles
11-12
Noah Crawford-Best 11-12 Science & Technology
13-15
Victoria Robey-Best 13-15 Animal Science; Best 13-15 Science & Technology, and Best 13-15 Consumer & Family Science
Tucker Melton-Best 13-15 Environmental Science
16-18
Alexis Tice-Best 16-18 Animal Science
Outstanding 4-H Members of the year included: 9-10 year old-Ashton Lowe; 11-12 year old- Noah Crawford; 13-15 year old- Victoria Robey; and 16-18 year old- Mitch Kreisel (pictured below left to right)
One 4-H member received their 4-H jacket, which can be earned by 4-H'ers through a point system for accomplishments made over a period of several years. Abigail Rippin was presented with her jacket.
Currituck County 4-H would like to thank everyone who contributed to a successful program year.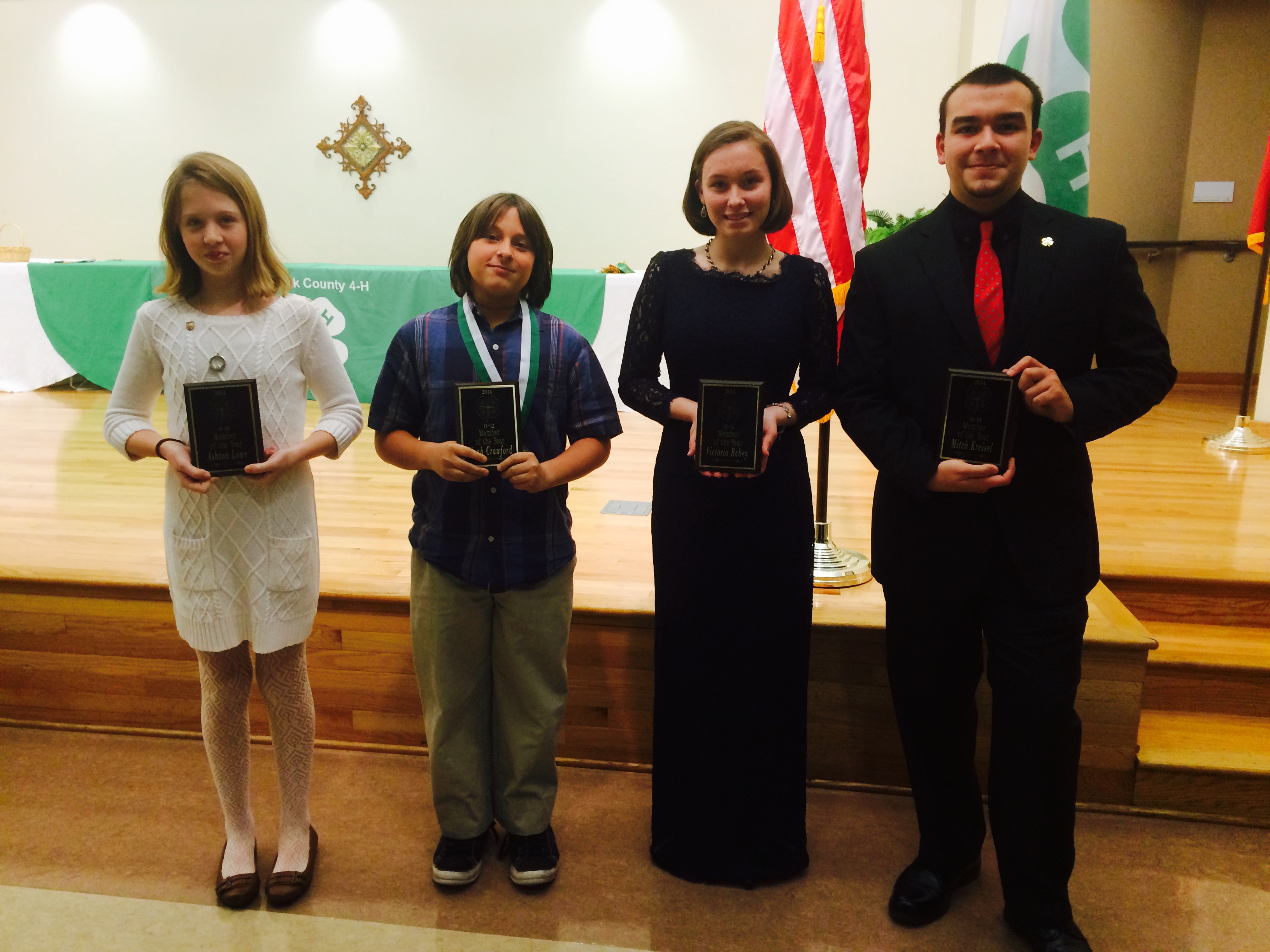 Was the information on this page helpful?
This page can also be accessed from:
go.ncsu.edu/readext?339136