Holiday Haunts: Don't Let Them Ruin Your Festive Meals.
Find this article at:
go.ncsu.edu/readext?493427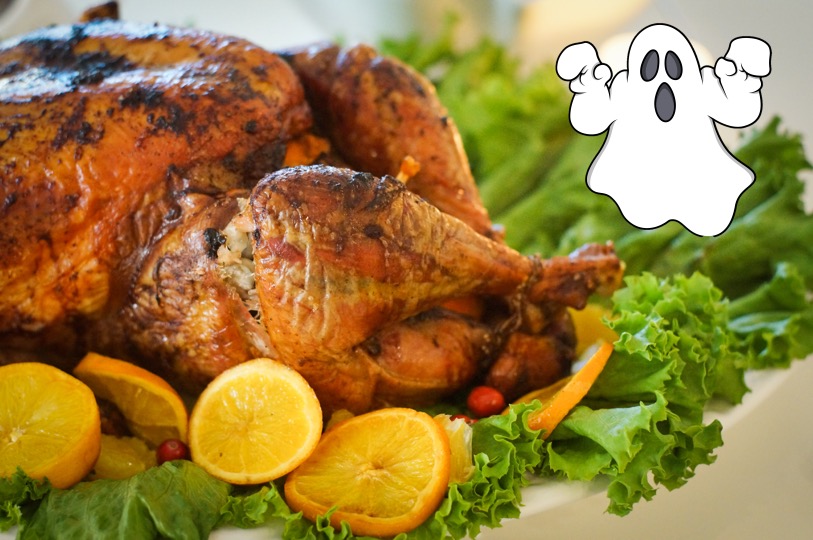 Halloween is over but there are still some spooky and unwanted visitors that could haunt your upcoming holiday meals. While it may not be treated with the same concern as a zombie apocalypse, foodborne illnesses are a danger much more common and sometimes quite severe. The good news is that by following a few easy steps and treating every bird as if it is contaminated you can protect you and your family.
The ghoulish guests I'm referring to of course, are those pathogens found on food that has been mishandled. First, there is Listeria which takes up residence in and haunts the leftovers in the refrigerator. It can sometimes possess cold foods served at buffets like deli meats and smoked salmon. Then there is Clostridium Perfringens, it is most fond of meat, meat products and gravy. It tends to lurk in foods served in larger quantities that have been left out at room temperature. Staphylococcus Aureus inhabits food and multiples rapidly at room temperature to produce a toxin that causes illness within 1-6 hours. It hangs out in foods that are made by hand and do not require additional cooking.
Some other menacing microbes that have been linked to holiday meals are the spine-chilling Salmonella and creepy Campylobacter. Campylobacter can be found in close to half of commercially available poultry, but will only make you sick if you mishandle the turkey. Mishandling food allows pathogens to grow to a toxic level which can then make you sick. Before you stage an exorcism or forgo the holiday tradition altogether, let me give you a few pointers on how to safely thaw, cook and store your bird.
First, when thawing a turkey make sure to follow the package recommendations. Many will direct you to thaw in the refrigerator for several days depending on the size. This requires that you remember and plan to remove the turkey from the freezer several days ahead of time. We often get calls from our more forgetful friends requesting a quick thawing technique. Resist the urge to leave the bird out on the counter at room temperature. If you leave the turkey at room temperature for more than two hours, not only will you probably not have a fully thawed bird, but the surface of the bird could have been left in the "danger zone" (according to the USDA 40-140o F). At this temperature those pesky pathogens can grow to a level that is toxic, causing a foodborne illness.
Instead, a quick way to thaw a turkey would be cold water thawing. Place the turkey in a leak proof plastic bag then submerge in cold water which should be changed every 30 minutes. You can calculate about 30 minutes for every pound. You can also try the microwave. There should be instructions on the package for this method.
Now that the bird has thawed, you will want to handle it carefully. Every surface that comes in contact with the turkey could become contaminated with any pathogens on the bird. We call this cross-contamination. It is important to clean and sanitize utensils, work surfaces and hands that come in contact with the turkey. DO NOT wash your bird! Washing the turkey can also cause cross-contamination. In fact U.K. Food Standards found that bacteria already present on poultry can travel up to 3 feet from where the meat was washed. So forgo bathing the bird. It is also recommended not to stuff the turkey. If you like stuffing, it can be made safest outside the turkey in a casserole dish. Not only is it safer, but you will not have to add extra time for thorough cooking, which can cause the meat to be dry. When you think you have cooked your turkey the recommended amount of time, make sure to use a meat thermometer to check for doneness. Poultry should be cooked to an internal temperature of 165o F. Check the temperature in multiple places and make sure the thermometer does not touch the bone.
Now for the storage. First, let's remember that we should not leave food in the "danger zone" (40-140o F) for more than two hours. If it is left out it should be reheated to 165o F. The best way to store your leftover turkey in the refrigerator is to carve the whole turkey then place small portions in 1 quart resealable bags. For the quickest cooling it is best to place the bags directly on the shelf and not stacked on top of one another because that will allow heat to be trapped between the two bags. Your goal is to quickly cool the turkey.
Following these simple steps can fight off those horrifying holiday haunts. And it means a safe and happy Thanksgiving for everyone, well, except maybe the turkey! Next time, we'll learn how to properly carve your turkey. Good luck and Happy Thanksgiving!