Happy Trails Summer Horse Camps
**Both camps are full, if you would like to be placed on waiting list please call 232-2262**
Saddle up and get ready because, registration is now open for Happy Trails 4-H Horse Camp. Do you love horses, but don't have one of your own? Well, Currituck County 4-H is hosting two, 3-day 4-H horse camps specifically for non-horse owners and beginner horse owners. The first camp will be held June 26 – 28, 2018 and the second camp will be held on July 31 – August 2, 2018. Both camps will be from 9 a.m.-3 p.m. at the CCRC (Currituck County Rural Center) located at 184 Milburn Sawyer Road, Powells Point, NC.
At each camp, youth, ages 7-14, will learn about horse care, horse and rider safety and responsibility, and riding styles in a fun and exciting environment. Horse loving participants will also learn all the basics of equine science and horsemanship. The registration fee for each camp is $60.00, which covers educational supplies, a camp souvenir, insurance, and a camp finale pizza party.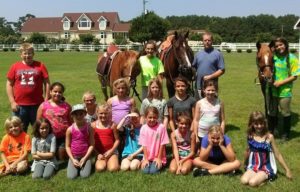 Pre-registration by June 15, 2018 is required. You can register online at http://go.ncsu.edu/2018happytrailshorsecamp or by contacting the office at 252-232-2261. Payment must be received within 5 business days of registering and can be made in person at the N.C. Cooperative Extension, Currituck County Center or by mailing a check made payable to "Currituck County" to 120 Community Way, Barco, NC 27917. Registration is not complete until fees and a completed 4-H Enrollment Form are received.
For more information or accommodations for persons with disabilities please contact Tom Harrell at 252-232-2261, email tom_harrell@ncsu.edu no later than five business days before the event.
NC State University and N.C. A&T State University commit themselves to positive action to secure equal opportunity regardless of race, color, national origin, religion, political beliefs, family and marital status, sex, age, veteran status, sexual identity, genetic information or disability. NC State, N.C. A&T,
U.S. Department of Agriculture, and local governments cooperating.