The Best Five Weeks of Summer – Camp Mesowannago 2018
Camp Mesowannago Day Camp, held at Currituck County Extension Center, is the perfect place for your child's summer fun. 4-H summer day camp provides a safe and fun environment where your child can learn and grow. Youth, ages 5 (must have completed kindergarten) to 12, participate in age appropriate and learning centered activities that encourage new discoveries, new skills, leadership, independence, and friendship.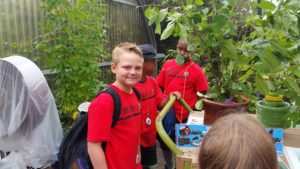 Each of the five weeks will present a new educational theme with a wide variety of enrichment activities to keep campers engaged. Hands-on experiments, art projects, games, music, cooking, field trips, and swimming are just a few examples of the fun that will be experienced at Camp Mesowannago. Camp will be held at the NC Cooperative Extension, Currituck Office on 120 Community Way in Barco, from 8 a.m. to 5:30 p.m. Monday through Friday. Parents may choose to register their children for any or all of the following five weekly camps:
Week 1 – June 25-29

Out of this World (Planets, Stars, Space & Time)

Week 2 – July 9-13

Get StARTed (Visual Arts / S.T.E.A.M.)

Week 3 – July 16-20 Grossology (Explore Everything Gross!) **FULL**

Week 4 – July 23-27 Wilderness Living (Nature & Survival Skills) **FULL**

Week 5 – July 30-Aug. 3 Acres of Adventure (Insects, Farm Physics & More!)
Pre-registration is required. To register visit http://go.ncsu.edu/2018campmesowannago . Registration is not complete until fees and a completed 4-H Enrollment Form are received. Payment can be made in person at the Extension Office or by mailing a check made payable to "Currituck County" to 120 Community Way, Barco, NC 27917. Camp fees of $80 per week includes insurance, supplies, snacks, educational materials, and field trips. Space is limited so enroll early.
For more information or accommodations for persons with disabilities please contact the 4-H Staff at 252-232-2262, email slfischl@ncsu.edu no later than five business days before the event.