4-H Electric Workshop
Currituck County 4-H is hosting an Electric Workshop June 12, 2018 from 9:00 a.m.-2:00 p.m. for youth ages 10 -18 years of age. During this workshop youth will work on hands-on activities that teach them about alternating current and direct current, learn how to solder and learn about circuits and how they work.
We are asking youth to pre-register for this free workshop and to bring a bag lunch. Pre-registration is available through our online form. You can mail in the required 4-H forms to NCCES 120 Community Way, Barco NC 27917.
For more information or for accommodations for persons with disabilities please contact Stephanie Minton at 252-232-2262, email her at stephanie_minton@ncsu.edu no later than five business days before the event.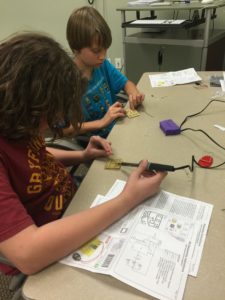 NC State University and N.C. A&T State University commit themselves to positive action to secure equal opportunity regardless of race, color, national origin, religion, political beliefs, family and marital status, sex, age, veteran status, sexual identity, genetic information or disability. NC State, N.C. A&T, U.S. Department of Agriculture, and local governments cooperating.