4-H Fun With Fish Day Camp
*This camp is full, please call 232-2262 if you would like to be placed on waiting list*
Currituck County 4-H is hosting a two day 4-H Fun with Fish Day camp June 13-14, 2018 from 9 a.m.-3 p.m. for youth ages 7-12 years of age. On day one participants of this two day camp will learn how to ID the different fish swimming in our local waters, learn how to cast, learn about the different bait that can be used, and on day two they will take a trip to Jennette's Pier where they will spend some time using those casting skills and catch some fish.
Pre-registration and a registration fee of $10 must be paid to secure your spot. Space is limited so please do not delay in registering your child. Please use our online form to pre-register. You can then download and mail in the required 4-H forms and the registration fee to NCCES 120 Community Way, Barco, NC 27917.
For more information or for accommodations for persons with disabilities please contact Stephanie Minton at 252-232-2262 or email her at stephanie_minton@ncsu.edu no later than five business days before the event.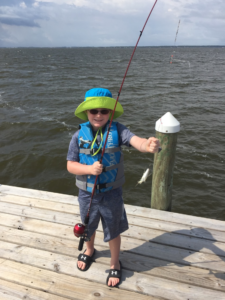 NC State University and N.C. A&T State University commit themselves to positive action to secure equal opportunity regardless of race, color, national origin, religion, political beliefs, family and marital status, sex, age, veteran status, sexual identity, genetic information or disability. NC State, N.C. A&T, 
U.S. Department of Agriculture, and local governments cooperating.