4-H Programs-Empowering Young People to Lead for a Lifetime
Healthy Lifestyles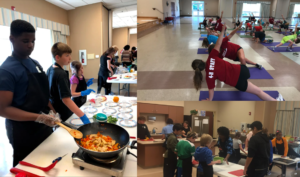 4-H programs are grounded in the belief that kids learn best by doing. Through hands-on learning, youth build not only confidence, creativity, and curiosity, but also life skills such as leadership and resiliency that will help them thrive today and tomorrow.
4-H programming consists of hands-on projects and education in three core areas: Healthy Living, STEM (Science, Technology, Engineering and Math) and Citizenship. These programs and activities are conducted in a positive environment, under the guidance of adult mentors, and promote and encourage participating youth to take on proactive leadership roles. Furthermore, they are backed by a network of 100 public universities, such as NC State University, and a robust and diverse community of 4‑H volunteers and professionals. Youth can concentrate on one focus area or they can try a variety of programs throughout their 4‑H experience.
Healthy Living programming in North Carolina 4-H is divided into two focus areas: Healthy Lifestyles and Family & Consumer Sciences, both of which are designed to help 4‑H youth learn about living a healthy lifestyle through fun, hands-on activities and projects and to lead lives that balance physical, mental, and emotional health. Healthy Lifestyles programs, activities and workshops allow the youth to explore the world of food and nutrition, personal and family fitness options, safety and preparedness, sports, and consumer health. Family and Consumer Science projects are related to you, your home and your family. Focus areas include sewing, cooking, money management, interior and apparel design, and consumer science activities.
Available county and state healthy living activities include: oral presentations, the healthy living summit, Handmade & Homegrown Contest, Make it with Wool competition, 4-H shooting sports, Currituck Culinary Camp, cooking clubs and workshops, personal financial planning, and etiquette and manners. Regardless of the program or activity area, all 4‑H programs include mentoring and career readiness as core elements.
For more information about upcoming Healthy Lifestyle programs and events check the N.C. Cooperative Extension of Currituck County website or contact the 4-H staff at 252-232-2262.
4-H is North Carolina's largest youth development organization, equipping more than 263,000 young people each year with the skills to succeed and improve the world around them. 4-H programs and camps encourage young people to "learn by doing," helping them to develop into active, contributing citizens. NC State Extension and the Cooperative Extension Program at N.C. A&T State University coordinate 4-H programs statewide.