New Currituck Extension Staff
Find this article at:
go.ncsu.edu/readext?540045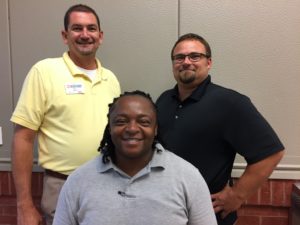 N.C. Cooperative Extension of Currituck County is proud to introduce the latest new hires to our department. Billy Caudle, Chris Blaha, and Ella Skinner all joined the team this summer. N.C. Cooperative Extension of Currituck County exists to meet the needs of Currituck County citizens through hands-on education in the areas of Agriculture, 4-H and Youth Development, and Foods and Nutrition.
Billy Caudle will be serving as a 4-H Program Assistant for Currituck County. He will oversee the Community Service and Restitution program, will provide marketing and community relations expertise, and oversee the 4-H Day Camping program with Currituck County Extension's 4-H Department. Billy currently serves on city council in Elizabeth City and has worked with Arts of the Albemarle and FedEx. "Billy has hit the ground running and already proven himself more than capable in his new role. He has been a true joy to work with thus far" stated Cameron Lowe, N.C. Cooperative Extension of Currituck County Director.
Chris Blaha will be filling the role of Agriculture Technician for Currituck County. He will oversee the Extension Master Gardener program, serve as a resource person for horticulture to the public, and provide educational programs on various horticultural topics. Chris previously owned his own landscaping company and worked as a plant expert for Lowes. "The horticultural knowledge Chris possesses coupled with his outstanding customer service has already brought great value to the Currituck Extension team" says Lowe. "He has learned his role very quickly and can be depended upon to get the job done."

Ella Skinner will be serving as the Extension building custodian. She is responsible for building cleanliness and safety as well as coordinating with outside users of the building to accommodate their needs. She has worked in the security industry as well as previously serving as a school custodian in Currituck. "Ella is often the first face people see when entering the building" shares Lowe. "She is always wearing a smile and is more than capable of serving the complex and varied needs related to public buildings."
For more information on N.C. Cooperative Extension in Currituck County, contact Cameron at 252-232-2261 or cameron_lowe@ncsu.edu.