Tucker D. Melton Elected State 4-H President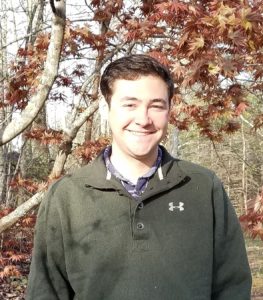 As a culminating achievement to an outstanding 4-H career, Currituck County 4-H'er Tucker Melton, son of Kathy and Dave Melton, was recently elected President of the 2018-2019 North Carolina 4-H State Council. Over the course of the next year Tucker will represent and serve all of the over 200,000 NC 4-H members. He will plan, attend and lead at all State level 4-H events such as NC 4-H Congress and 4-H Citizenship Focus; and he will serve as a role model and 4-H ambassador at events across the State.
Tucker's 4-H Agent, Sherry Fischlschweiger stated, "Tucker is an outstanding young man who thinks and acts at a level well beyond his years. He is a natural leader and his enthusiasm, passion, and determination make him the perfect choice for this position."
Tucker has been a  Currituck County 4-Her since the age of 11, completing projects and presentations in environmental sciences, wildlife and and competitive shooting sports. He also has a passion for government, leadership and active citizenship and has regularly participated in 4-H Citizenship NC Focus and the North Carolina Association of County Commissioners Youth Voice program. Tucker was a Youth Panelist on the NC SPIN television show, and served as the Currituck County Extension Advisory Council youth delegate. He has also served as the President of the Currituck County Sharpshooters 4-H Club and the 4-H County Youth Council. Most recently, Tucker served as the Vice President of the Northeast 4-H District, representing 4-H members from 22 counties in the Northeast region of the state.
Tucker hopes that the experiences and skills gained from 4-H will help him in the future as he seeks a career in Federal Wildlife Enforcement. He will be attending Appalachian State University this fall, majoring in Ecology, Evolution and Environmental Biology, and Criminal Justice. Please join us in offering Tucker our heartfelt congratulations!
4-H is North Carolina's largest youth development organization, equipping more than 263,000 young people each year with the skills to succeed and improve the world around them. 4-H programs and camps encourage young people to "learn by doing," helping them to develop into active, contributing citizens. NC State Extension and the Cooperative Extension Program at N.C. A&T State University coordinate 4-H programs statewide.
For more information about 4-H in Currituck County contact the 4-H Agent, Sherry Fischlschweiger at 252-232-2262 or sherry_fischlschweiger@ncsu.edu