Community Service: Engage, Empower, Enable
Find this article at:
go.ncsu.edu/readext?559834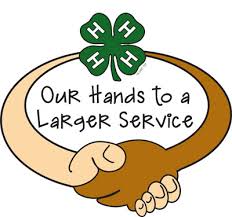 Community Service has been a key component of 4-H since its very beginning. The third "H" and the third line of the 4-H pledge; "I pledge my hands to greater service" emphasizes the value placed on service. Research conducted by the National 4-H Council and Youth Service America has repeatedly shown that youth engaged in community service become active members of the community and have a lasting, positive impact on their "club, community, country and world".
Community Service is free work or activity, provided to help benefit the community or public at large. The same studies that have identified the benefits and value of service to the community have also shown that there are significant tangible benefits to the individual providing that service.
Young people participating in community service activities develop real-world skills that will help them succeed in school and beyond. They practice effective communications, problem-solving, time management, collaboration with others and leadership. These are foundational life skills that are essential for development into to successful, achieving adults.

They develop a well-rounded perspective of the world they live in by having the opportunity to see first hand the impact an individual can make on the world. They learn to identify the issues facing their community and their world and how their actions can help to resolve those issues.

Research by America's Promise-The Alliance for Youth shows that youth who volunteer just 1 hour a week are 50% less likely to participate in destructive behavior, become pregnant at an early age, or to abuse alcohol, drugs or cigarettes.

Youth Service America (YSA) and RMC Research compiled several studies that show that youth participating in service learning and community service activities had higher graduation rates, higher GPAs, higher achievement test scores, and acquired a stronger set of job and career-related skills and aspirations when compared to youth not participating in service activities.

They are happier and healthier. In a Health and Volunteering Study conducted by YSA, 76% of the respondents said they felt healthier, 94% said that their mood was improved when volunteering and 80% were less stressed.
Community Service and Volunteering by youth is a tremendous benefit to the community being served as well as to the young person participating, and both will benefit now and in the future. Empowered and engaged youth lead to responsible, civic-minded, and principled adults, so encourage youth to volunteer. Help them find opportunities to engage, and help them help others.
4-H is North Carolina's largest youth development organization, equipping more than 247,000 young people each year with the skills to succeed and improve the world around them. 4-H programs and camps encourage young people to "learn by doing," helping them to develop into active, contributing citizens. NC State Extension and the Cooperative Extension Program at N.C. A&T State University coordinate 4-H programs statewide.