What the Heck Is That?!?!
As spring is beginning and the dogwoods and redbuds start to bloom, this tiny insect can be seen flying around Eastern NC. The adults will soon mate and lay eggs on our state tree. These eggs will then hatch and both larvae and adult will become serious pests. Do you think you know what insect is being described and is depicted below? Test your expertise with this installment of "What the Heck is That?!?!"
This insect is best identified by the plants it feeds and lives on: Southern yellow pine. If that helped you guess southern pine beetle you are correct! Southern pine beetles are small (⅛ in.long) beetles that attack and kill weakened pine trees. Both adults and larvae feed on the tree's phloem just under the bark. This feeding forms tunnels that eventually girdle the tree. As these insects proliferate on the damaged tree, they can spread and attack surrounding healthy trees.
If the pine tree is healthy enough it will attempt to defend against the beetles' attack. One way it does this is by producing sap. The sap production is used to push the beetle out of the entrance hole, forming a pitch tube. Pitch tubes (image below) are usually white or yellow and are the size of a piece of popcorn. Aside from sap, these tubes also contain the beetle's waste, known as frass. Scouting for these pitch tubes on the sides of trees is a great way to determine if a tree is infested.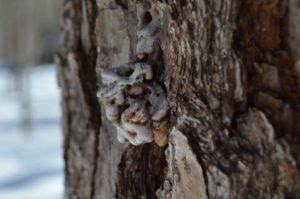 For more information on southern pine beetles and to stay informed on current insect facts see the NC State Extension Southern Pine Beetle publication. If you have content (images, ideas, etc.) you would like to have featured in the upcoming installments of "What the Heck is That?!?!" email or call Adam Formella at adam_formella@ncsu.edu or 252-232-2262.