Extension Master Food Volunteer 2020 Applications – NOW OPEN!
Find this article at:
go.ncsu.edu/readext?636657
Posted On

November 20, 2019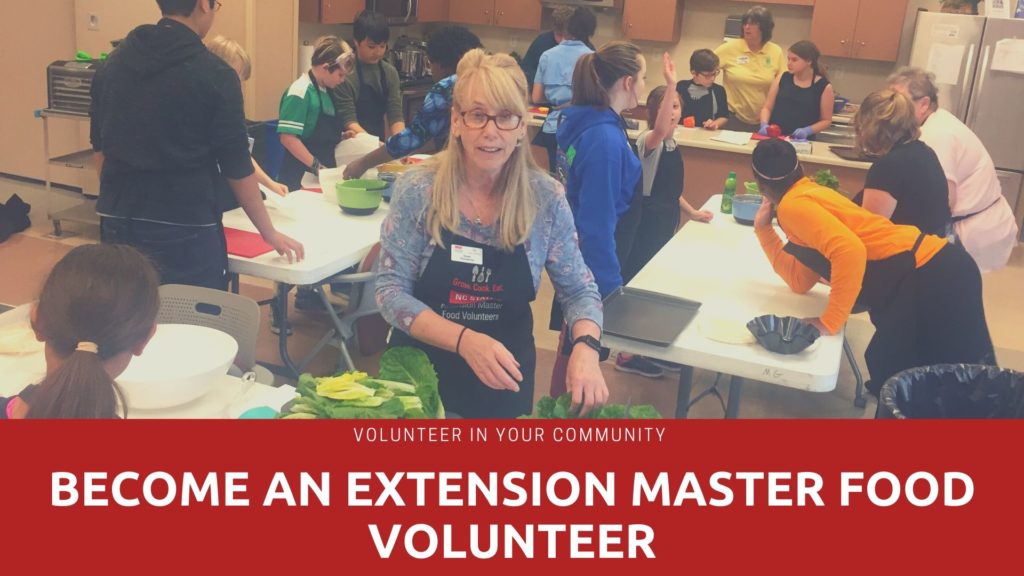 Do you enjoy cooking, eating, or just simply – food? If you answered yes to any of these, join the Extension Master Food Volunteer (EMFV) program now!! The 2020 application for the EMFV program is now open to area citizens! The application deadline is January 10, 2020, but sign up early because spots are limited! Training will begin on February 3, 2020; a complete list of class dates and topics are included below.
The EMFV program, similar to the highly recognized Extension Master Gardener℠ volunteer (EMGV) program, is designed to provide volunteers the opportunity to support Family and Consumer Sciences (FCS) agents with food-related programming. Volunteers with the EMFV program will receive a core curriculum of 30 hours of training and will then shadow the FCS agent for 30 hours during their first year.
At the conclusion of the EMFV training, volunteers will be able to provide support to the FCS agent's food-related programming, including assisting with cooking, nutrition education, food safety classes, and conducting food demonstrations in the community. 
To begin the process of becoming an EMFV for Currituck County complete your event registration and payment of the $50.00 class fee through Eventbrite at emfvtraining20.eventbrite.com. Then complete an application at go.ncsu.edu/emfvapplication. Volunteers may be assisting with youth cooking and nutrition programming so a background check will be run on all applicants. We also have an interview process that is easy and fun. After completing the application you will be contacted to set up your interview. If you have any questions or need assistance please contact Olivia Patchel at 252-232-2261 or via email at olivia_patchel@ncsu.edu To apply for the 2020 class, please begin by visiting
2020 Training Dates: (Transportation provided from the N.C. Cooperative Extension of Currituck County office if needed)
Date Location Topic Time 
Feb. 3      Pasquotank    EMFV Program Overview

10 a.m.–1 p.m.

Feb. 5      Pasquotank    History of Extension

10 a.m.–1 p.m.

Feb. 10     Pasquotank   Teaching Strategies/Diversity

10 a.m.–1 p.m.

Feb. 12     Pasquotank    Programs That Work

10 a.m.–1 p.m.

Feb. 17     Pasquotank   Changing Health Behaviors

10 a.m.–1 p.m.

Feb. 19     Pasquotank   Food Safety

10 a.m.–1 p.m.

Feb. 24     Pasquotank   Cooking Skills

10 a.m.–1 p.m.

Feb. 26     Pasquotank   Nutrition 101

10 a.m.–1 p.m.

March 2   Pasquotank   Cooking Demo

10 a.m.–1 p.m.

March 4   Pasquotank

  Food Systems & Local Foods Eval./ Graduation 10 a.m.–1:30 p.m.