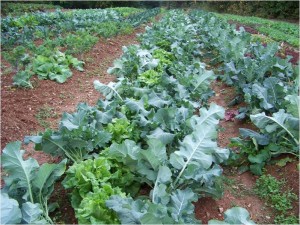 With the onset of cooler days and cold nights late season vegetable gardens rapidly decline, except for those leafy green vegetables which seem to thrive.  It is a good time of the year to enjoy leafy greens such as kale, collards, spinach and even cabbage that were planted during the last days of summer.
It is also, however, time to begin to think about next year's garden.  There are several garden chores you should take care of before the colder days of winter.  Evaluate the productivity of your garden this past year – if your garden exhibited poor growth or the color of your plants did not look good, then you might have soil fertility problems.  Below are a few steps that might improve your next garden:
–          Soil sampling your garden will indicate lime and nutrient deficiencies.  It is best to add lime as early as possible to correct the soil pH for good plant nutrient availability.  Soil samples should be collected now.  The soil sample boxes and forms are available at your local Cooperative Extension office.  Soil samples are analyzed free for residents of North Carolina by N. C. Department of Agriculture and Consumer Services.
–          Good garden sanitation – Garden debris can sometimes harbor diseases and insects, so it is important to thoroughly clean your garden of all debris and dispose of it.  It is not a good practice to compost this old debris.
–          Cover crop – The planting and growing of a cover crop during winter is a farm production practice that dates back many generations.  A cover crop of cereal grain such as wheat, oats or rye planted now and growing during the winter will add nutrients to the garden when tilled into the soil during the early spring.  These cereal grain seeds are usually available at garden supply or feed stores.
For answers to your gardening questions contact the Currituck Cooperative Extension office at 252-232-2262 or email Tommy_Grandy@ncsu.edu.