Interview Preparation Skills
Spring is officially here meaning that the summer school break is not far behind. If a summer job is in your future plans, now is the time to prepare yourself to successfully navigate the sometimes daunting hiring process. One very important step in that process is the job interview. Employment interviews can be intimidating and nerve-wracking for teens and young adults who are relatively new to the process – but it does not have to be. Employers who hire teens are not expecting you to have years of work experience, or a long list of skills. What they want to see is a positive attitude, a willingness to listen and learn, and for you to be trustworthy, reliable, and punctual. Follow these tips for interview preparation, and set yourself up for success.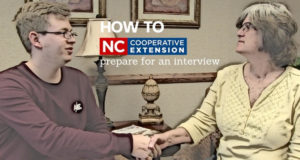 Know/Research the Organization
Research the company that is offering the job. Understand what they do and how they do it. If the company has a website visit that site so that you can learn the company's background, what products or services they provide and how they market themselves to the public.
Understand the Job Requirements
Read the job description very carefully making sure that you understand all of the necessary skills and requirements. Know the expectations of the employer and know what each day at work will entail.
Know Yourself
Put yourself under the microscope – what skills do you have, what are your strengths and weaknesses, what qualities do you have that make you the ideal candidate for the position. Compare your resume of skills, qualifications, and capabilities against the job requirements and determine how you can highlight your skill set in relation to the job requirements.
Research Common Interview Questions
There are countless publications that identify the most common interview questions asked during job interviews. Research these potential questions and then formulate a response. Employer's hiring teens use these basic questions to learn more about the candidate's attitude, integrity and willingness to learn, so develop a response that is clear, concise and honest.
Practice
Practice does not always make perfect, but practice will allow you to address the essential components of the interview and eliminate potential flaws and errors. Some key areas that should be addressed are: how are you going to greet the interviewer and introduce yourself; how are you going to get to the interview; how are you going to dress for the interview; and how are you going to respond when asked "Why do you want this job?"  Practice as much as you can and enlist family members and friends to help you with this process so that you have a more realistic scenario to hone your skills.
If you can clearly demonstrate these qualities in your interviews,  you will be one step closer to the job you seek.
For more information on 4-H youth programs and activities contact Sherry Fischlschweiger via phone, 252-232-2262, or email, sherry_fischlschweiger@ncsu.edu.
4-H is North Carolina's largest youth development organization, equipping more than 263,000 young people each year with the skills to succeed and improve the world around them. 4-H programs and camps encourage young people to "learn by doing," helping them to develop into active, contributing citizens. NC State Extension and the Cooperative Extension Program at N.C. A&T State University coordinate 4-H programs statewide.