2019 Recap
Find this article at:
go.ncsu.edu/readext?646436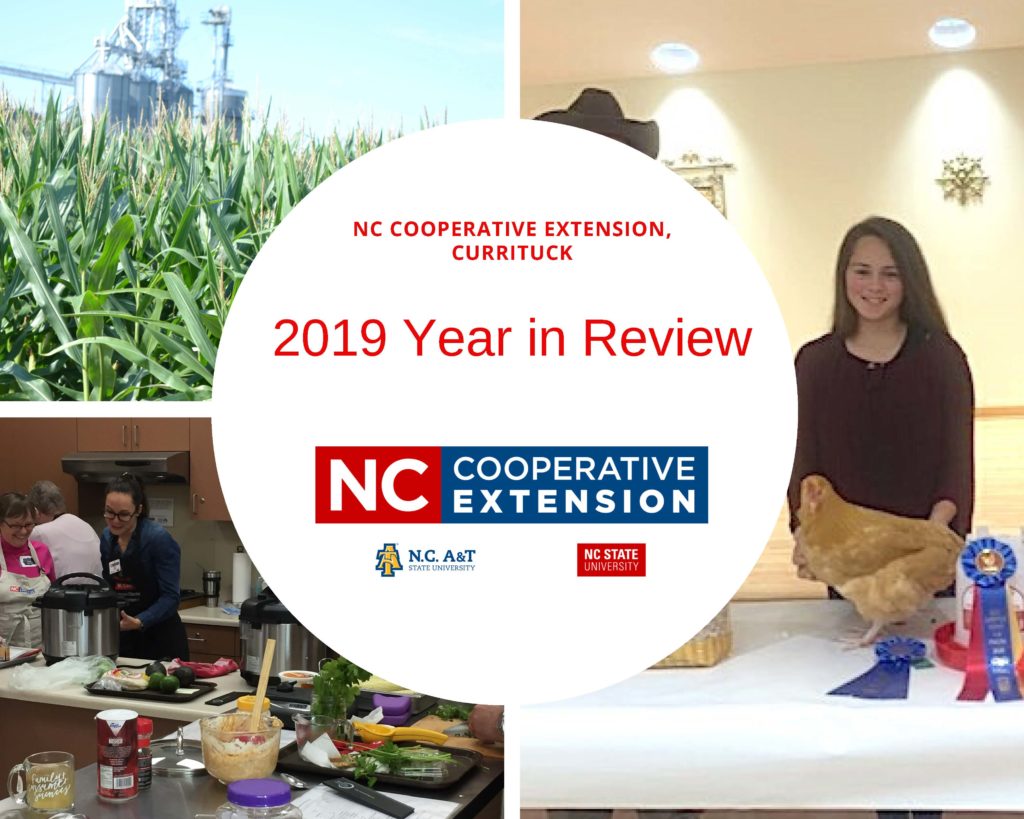 Each year, N.C. Cooperative Extension in Currituck County takes an opportunity to reflect upon the previous year's work and share with our clients, supporters, and friends how we have utilized the resources entrusted to us. While the details of these accomplishments are reserved for the annual "Report to the People," here are a few highlights from 2019.
First and foremost, Adam Formella completed the Currituck County staff team as the new Agriculture Agent. Adam hit the ground running and has already brought a great deal of innovation, professionalism and hard work to the team. In 2019, he had the responsibility of hosting the Northeast Ag Expo here in Currituck. Over 260 participants attended representing nearly 300,000 acres of corn and soybean production. When surveyed about the effectiveness of these types of Extension programs, respondents reported a total economic value of over $5 million due to increased production based on information learned. Other agriculture program highlights included the certification of 4 new and 53 re-certified Master Gardener℠ volunteers. These hardworking individuals led projects at the Extension Center site, the local library, and various schools to increase horticultural education opportunities. 
Family and consumer science programming focused on health and nutrition, food safety, volunteerism, and senior adult issues. Extension staff and volunteers assisted 267 Medicare beneficiaries during open enrollment saving these clients over $213,000 in medical and prescription drug costs. A comprehensive nutrition education program was conducted utilizing web-based instruction, face to face classes as well as instructional videos. Nearly 200 participants in these activities reported increasing fruit and vegetable intake.
The Currituck County 4-H program continued to offer inquiry-based educational programs focused on Science, Engineering, Technology and Math (STEM), healthy lifestyles and leadership development. Of specific note in 2019, Currituck County 4-H delivered over 550 hours of interactive educational programming to 212 youth during June and July. Significantly enhancing both the quality and quantity of programming was the 710 hours of time provided by 16 volunteers (valued at $18,000). Of the parents surveyed, 85% provided positive assessments of the overall program, with 90% stating that the educational activities were the deciding factor in their decision to choose Currituck County 4-H programs over others. Participant evaluations showed that 88% gained new knowledge and/or skills and that 94% indicated that they had fun and enjoyed the program enough to participate in other 4-H programs.
N.C. Cooperative Extension in Currituck County also assisted with the development of three strategic plans for community and governmental agencies. Further, over 200 individuals were assisted with developing job or business-related skills. Overall, N.C. Cooperative Extension of Currituck County staff delivered 287 educational programs and provided face-to-face education and assistance to 15,499 citizens. Currituck volunteers donated 9329 hours of service and expanded the reach of programming by over 10,000 contacts. The total estimated value of volunteer contributions was $237,235. Fundraising, grants and community contributions for program enhancement in 2019 totaled $159,472.
For more information regarding Extension-related programming in Currituck County, contact 252-232-2262 or Cameron_Lowe@ncsu.edu.