"BOLO" Canna
Find this article at:
go.ncsu.edu/readext?700729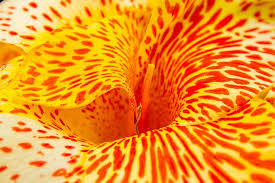 Well, it is that time of year again. The pests have begun invading our gardens. Don't worry, N.C. Cooperative Extension, Currituck County Center is here to help! We will post several "BOLO" or "Be On the Look Out" articles and videos per month. They will include up to date information about pests and/or diseases that are currently impacting ornamental plants in the county. Make sure to scout your beds frequently and thoroughly throughout the growing season. Spotting these problems in a timely manner will greatly decrease the damage to your ornamental plants. Remember, always apply insecticides at the correct time and carefully follow the instructions on the labels. If used improperly, many of these insecticides are harmful and/or fatal to bees and beneficial insects. 
This week's "BOLO" for the Lesser Canna Leafroller feeding on its host plant Canna. The leafrollers are small caterpillars that overwinter in the old stems and leaves of the Canna. If you grow "Canna lilies" now is a good time to scout for the Lesser Canna Leafroller. Look for notched and ragged canna blades. When they mature and open, they may be highly skeletonized and look like someone has shot them with a BB gun. Look closely at the rolled-up leaves, if lesser canna leafrollers are present you will probably notice that the unfurled leaves are held together with silk, preventing further expansion. If not properly managed, lesser canna leafrollers may completely destroy the aesthetic value of cannas.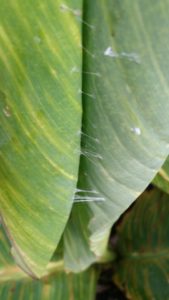 This pest can be controlled using Orthene or Bacillus thuringiensis insecticides as a spray. Completely cover the affected Cannas making sure to fill the rolled leaves with the recommended diluted pesticide. Repeat applications are often necessary to eradicate the pest. To reduce and/or control Lesser Canna Leafrollers numbers in future years, cut the Canna stems back to ground level after the first frost. Remove and destroy all debris left from the Cannas.
Additional detailed information about the Lesser Canna Leafroller.
Watch the short video below about the Lesser Canna Leafroller 

If you have additional questions about this topic or any other horticulture-related topics please contact Chris Blaha at  252-232-2262 or email ctblaha@ncsu.edu.